Technology
Rubber material production (Compounding—Mixing—Material Testing)
Compounding
Rubber products must have different quality characteristics depending on their type. Various raw materials are blended to create these characteristics. We blend strictly selected raw materials using our unique technologies, and create the best quality characteristics on the basis of our experience and technologies while also taking environmental issues into consideration.
Proposing optimal rubber materials for the required specifications using our unique compounding designs
Rubber materials are produced by blending fillers, carbon, softening oil, and various chemicals with raw material rubber to create those characteristics. We blend and design the properties required for rubber products and propose the optimal rubber materials.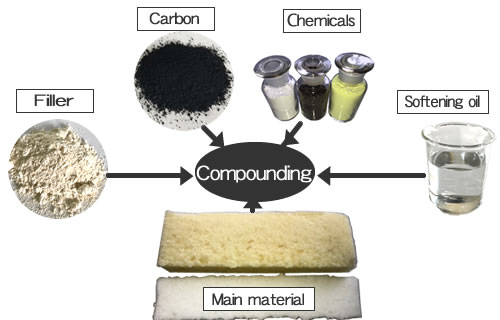 Procurable all necessary raw materials
We secure stable procurement routes for rubber, allowing us to make all necessary raw materials and chemicals available for our customers.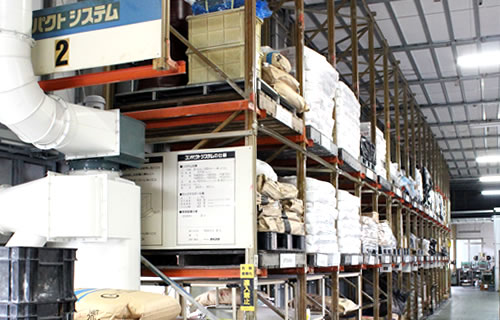 Mixing
The process of careful kneading for compounded raw materials is performed systematically with a kneader, a mixing roll, and a batch-off machine. Raw materials are transformed into rubber materials one after another via highly efficient automated machines by highly skilled operators.
Kneader
Weighed raw materials are kneaded with this kneader.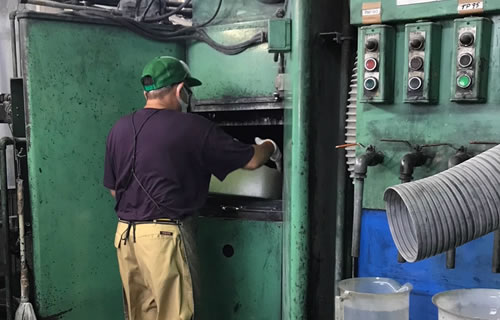 Mixing roll
The kneaded raw materials and various chemicals are dispersed completely with the mixing roll. This is a key point of the mixing process where the raw materials become rubber materials.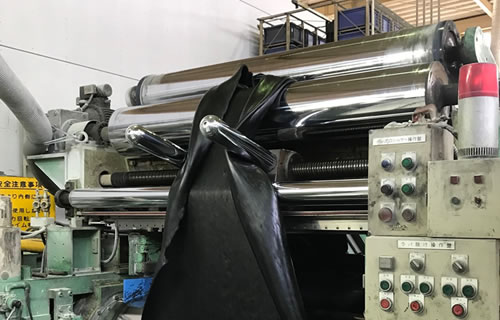 Batch-off cooler
The rubber material kneaded during the kneader and mixing roll processes is cooled down and performed adhesion-preventive treatment with the batch-off machine. It is then divided and cut into ribbons or sheets for use in the next process.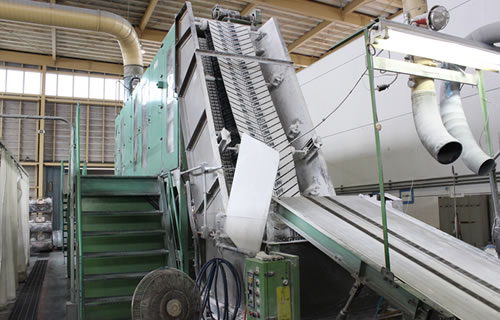 Material testing
Rubber materials that are produced are judged from a professional standpoint as to whether they meet the required needs without fault. Our knowledgeable and experienced staff conduct strict checks on each lot starting at the prototype stage, using various testing measuring instruments. And only satisfactory rubber materials are sent to the molding process.
Strict quality checks on every lot
The components of the produced rubber materials are analyzed to ensure they meet the requirements. Each lot is analyzed, and the strict checks ensures only those materials with a inspection stamp are sent to post- processes.