The never-ending pursuit of the highest quality led us to a unique integrated production system.
The most important element in continually providing high-end products with stable quality is the stable procurement of optimal materials and our integrated production system that allows us to handle everything from compounding to the final packaging and shipping process in-house. Our integrated production system allows us to provide products with specifications, forms, and qualities that meet customer needs. The Seien Gum Industrial manufacturing process begins with the making of rubber materials. These materials are then molded precisely at the hands of highly skilled operators. And only those products that meet our strict quality standards are shipped.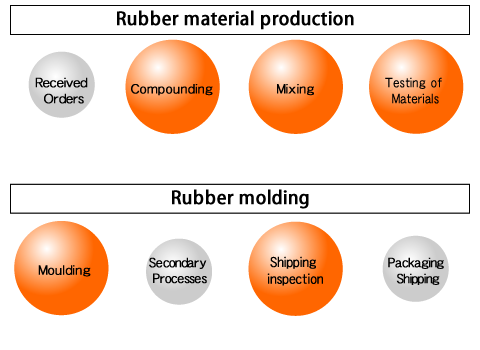 Rubber material production
Seien Gum Industrial manufacturers the materials for rubber in-house products. In order to produce the materials intended to meet customer and productivity needs in a stable manner, materials are manufactured by setting in-house quality standards for each lot in the compounding and kneading processes.
Click here for details
リンク
Rubber molding
More complex shapes can be molded using technology developed over the years. And we apply the rubber molding technology developed by Seien Gum Industrial, and now work on the molding of thermoplastic elastomers, which have seen growing demand in recent years.
Click here for details
リンク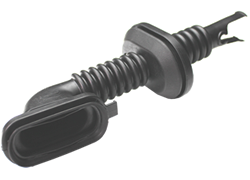 The raw material of the elastomer is known as a thermoplastic resin. At ordinary temperature, it has elasticity like rubber, and melts like plastics at high temperatures. This means it is a recyclable material, allowing for the effective use of resources. Seien Gum Industrial produces grommets using this thermoplastic resin material (elastomer).